Overlijden Carry Ulreich | Obituary notice Carry Ulreich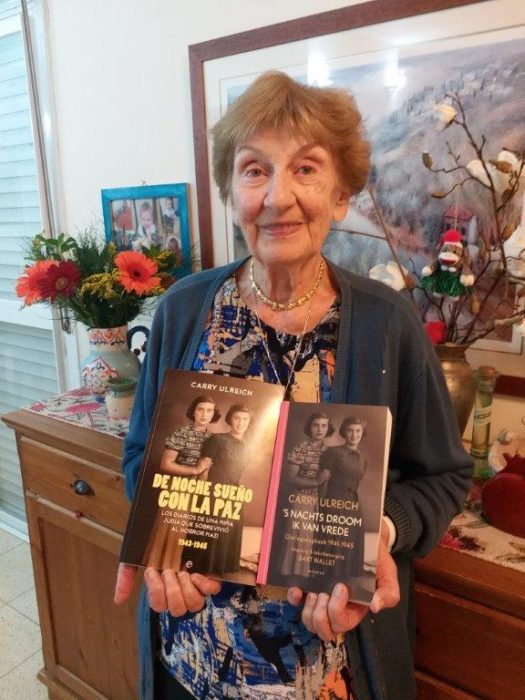 Wij zijn diep geraakt door het overlijden van Carry Ulreich, op 31 januari 2019 in Israël. Carmela Mass – de naam die Ulreich gebruikte sinds haar emigratie naar Israël – was auteur van het dagboek 's Nachts droom ik van vrede. Daarin beschrijft zij hoe ze als orthodox-joodse tiener de onderduik ervoer in de Rotterdamse oorlogsjaren. Carry Ulreich overleefde de oorlog, en bouwde een bestaan op in Israël. De publicatie van haar dagboek, dat bezorgd werd door dr. Bart Wallet en in 2016 bij uitgeverij Mozaïek verscheen, kreeg wereldwijd veel pers en vertaalrechten werden verkocht aan Duitsland, Spanje, Italië en Portugal. Ulreich overleed op 92-jarige leeftijd, omringd door haar familie. Ons medeleven gaat uit naar allen die deze bijzondere, moedige en volhardende vrouw liefhadden.
---
---
Obituary notice Carry Ulreich
We are deeply moved by the passing away of Carry Ulreich on January 31, 2019. Ulreich was the author of the diary's Nachts droom ik van vrede ('At night, I dream of peace'). In this diary, she describes how she experienced going into hiding as an Orthodox Jewish teenager during the war years in Rotterdam. Carry Ulreich survived the war and built a new life in Israel under the name of Carmela Mass. The publication of her diary, edited by dr. Bart Wallet and published by Mozaïek in 2016, received international attention; translation rights were sold to Germany, Spain, Italy and Portugal. Ulreich passed away at the age of 92, surrounded by her family. Our sympathy goes out to all those who loved this remarkable, courageous and persevering lady.